Here's What Your 12 Months of Coaching Will Look Like
Step 1: We Dive in and Get Clarity on Your Business
Again and again, we see the biggest obstacle preventing most business owners from growing is simply being so close to their business that it's hard to look at things objectively and notice the most obvious and biggest areas of opportunity.
And that starts with us deeply understanding you and your business.
When you become a coaching client, we conduct an in-depth interview, that not only gives us the big picture of your business but also brings us up to speed on everything—from metrics, to products/services you offer, to your market, and more.
While it is tempting to simply dive in, we have the experience to understand that the businesses that grow the fastest, have extreme clarity around the people they serve and the problems they solve.
They also know why they are working so hard to build this business. We all know it is not easy, but with your reasons for growing this business right in front of you, you won't lose your motivation.
So before we ever look at your marketing we make sure that we understand these two things about your business with extreme precision and clear communication.
We do this by first understanding your business and defining the following:
1. Your ideal client

2. The problem you solve

3. The result your client achieves by working with you
Second, we seek to understand you and your motivation by discovering the following:
1. Your Lifestyle Goals

2. Your 12 month business goals

3. Your 3-5 year goals
And the best part is that the whole coaching team is involved in this process. Every person on the team will have clarity on your business and be ready to jump in as you move forward.
Step 2: We Build the Custom Marketing Plan to 2x Your Monthly Revenue
Now that we have complete clarity of your business and your motivation, the second order of business is creating a marketing plan that gives you 100% certainty your time will be focused on the strategies and optimizations most critical to growing your business.
With the information you have provided in the assessment and the information from step 1 in mind, we'll put on our "Director of Marketing" hat and create the marketing plan that we would implement if we were in charge of your business and our sole responsibility was to double revenue in 12 months or less.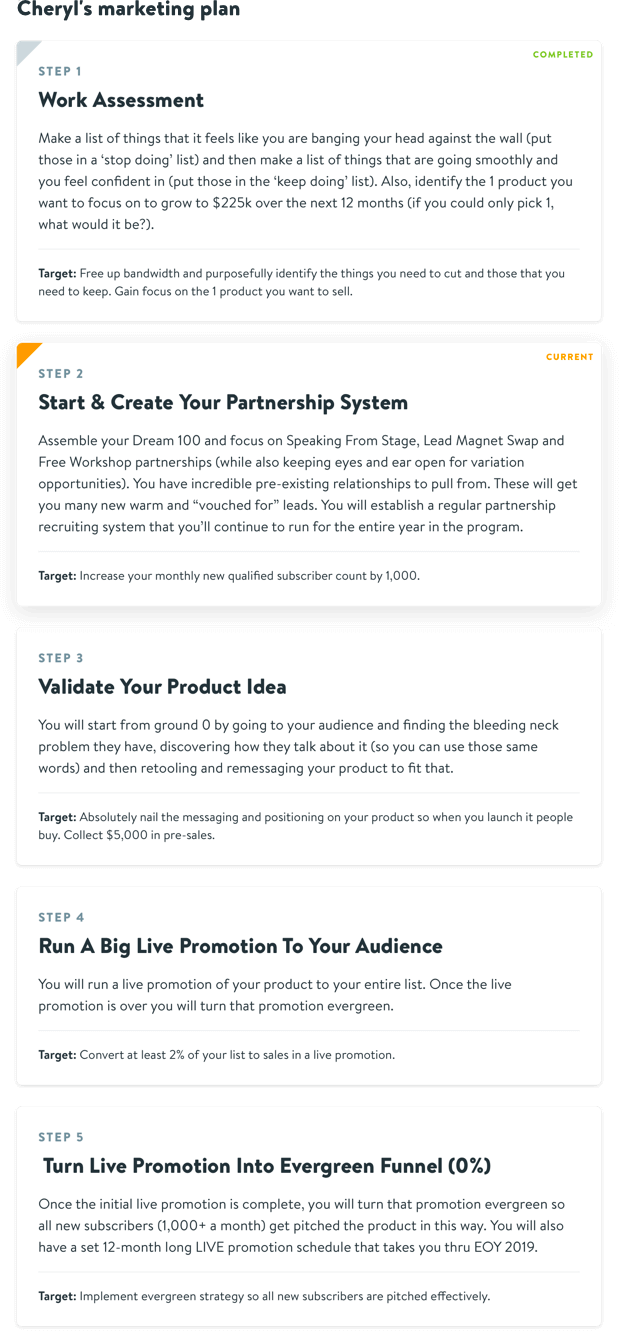 Your marketing plan is created to match YOUR skill set, resources, and available time.
It's designed to get you both short- and long-term wins while also leaving room for us to make adjustments to your strategy along the way. It covers 3 things:
1. Your Vision:

With a clear vision in place, you will be ready to jump in with both feet. We understand that it can be hard to see the end when you are in the weeds doing the work.

That is why we ensure that your vision is absolutely compelling and drives you to move forward.

2. The Marketing Campaigns You'll Implement to Hit Your Goal:

This is your custom marketing strategy for hitting your revenue goal. If we were running your marketing team, it is exactly what we would do. It includes key projects, campaigns, and optimizations that give you the best chance of reaching your revenue goal. It's not a one-size-fits-all plan—it's custom tailored to your unique situation utilizing proven systems. It will give you a clear picture of what the next 12 months look like for your business.

3. Detailed Explanation Of Your Marketing Plan

Once we've completed your marketing plan, you'll receive a detailed video breakdown from your coaching team that talks you through every goal, step, and strategy, and the reasons why we think it's the ideal path for your business.

You'll then review the plan and approve it.

If you have questions or concerns about the plan, all you have to do is let us know and we'll make any necessary adjustments.

Also, every 90 days, we'll review this plan together and tweak it based on the results you're getting and the progress you're making.
Step 3: We Give You the Playbooks to Execute Your Marketing Plan
As your coaching team, we give you our internal playbooks to run your marketing plan. No trial and error needed. Just run the exact systems that we've tested and continue to perfect.
Our playbooks are the exact same step-by-step manuals we use in our business to do everything from running live promotions, landing new marketing partners, optimizing a website to collect more leads, and running successful monthly webinars.
Inside each playbook is everything you need to implement that strategy. From high-level training, documentation, video overviews, over-the-shoulder tutorials, and every resource and template you can imagine.
For example, if one of the items on your marketing plan is to validate and pre-sell your product idea, you will get our Validation Playbook. If one of your items is to optimize your website, you'll get our Optimization Playbook.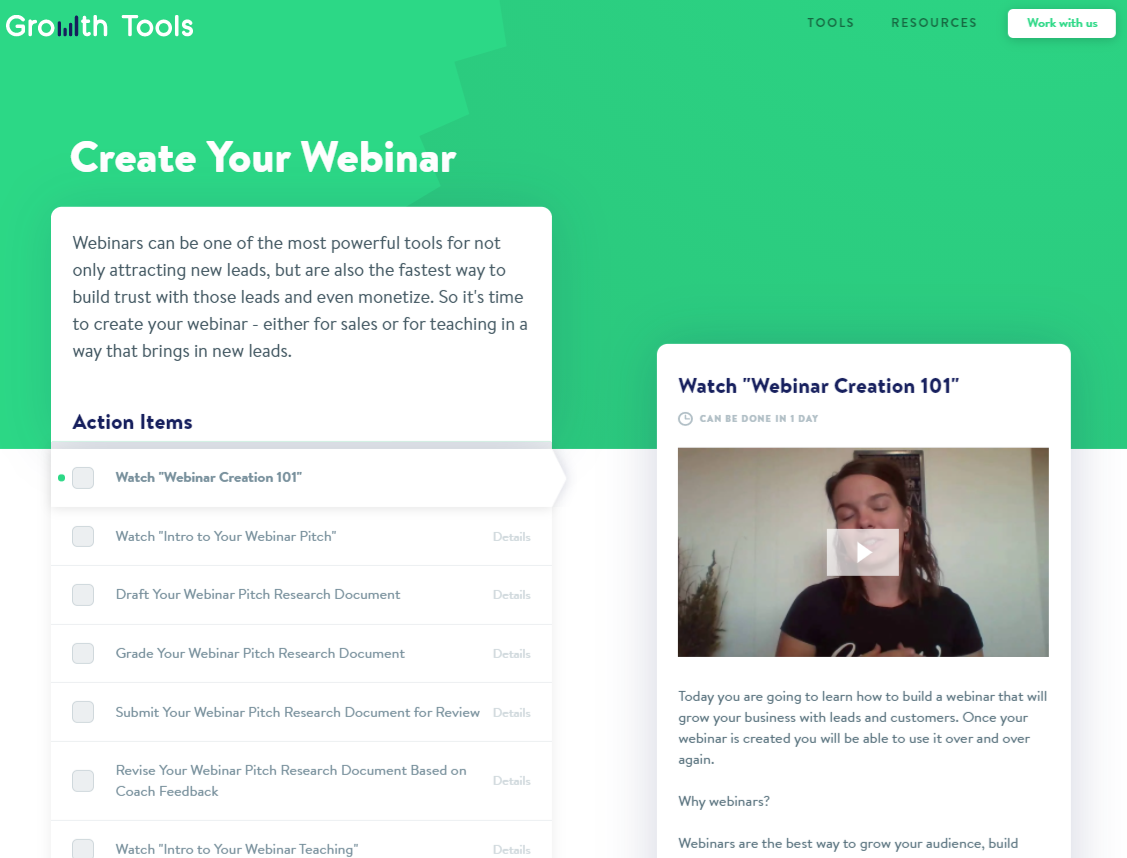 And best of all, your coach will be standing by to answer any questions you have. They'll also monitor your progress daily and proactively check-in with you if they notice you get stuck.
Step 4: We coach you through everything so you never get stuck
When you become a coaching client, you never have to guess about your marketing or go through business alone again.
If you're struggling to get through a task, run into a roadblock, or just need a second set of eyes on an email before you hit "send," just tell your coach and you'll get a fast response in 1 of 3 ways:
1. If you have a simple problem that has a straightforward solution, your coach will send you a simple email response within a few hours.

Question: "Which email service provider should I use if I want lots of flexibility and automation?"

Response: "Based on your needs, I definitely recommend ConvertKit. You'll love it and you won't have to worry about switching to something else as your list grows."

2. If your problem requires specific expertise, the coaches will find the best person on the team to reply. That coach will send you a detailed email response within a day.

Question: "Struggling to write a good response to this email I just got from a super promising potential webinar partner. Can you take a look at the draft?"

Response: "Solid start! There are a couple of tweaks that would make it seem like even more of a no-brainer for the partner though—I recorded a quick video to talk you through the specifics: [LINK TO VIDEO]"

3. If your problem is complicated and time-sensitive, your coach will schedule a time to have a zoom call so we can workshop it together.

Question: "Our course launch is a week away and I still have no idea how to price the different tiers we're offering. Help?"

Response: "We're all over this! Recorded a video for you with a few quick thoughts, but I'm also going to schedule you for 10:30am on tomorrow's office hours call so we can talk through everything together and go through all your questions. Sound good?"
Again, your coach is there to help you through any challenge you encounter, whether you need to…
Get feedback on a webinar script, outreach email, product description, or any other key asset

Write the perfect response to an email you just received from a huge potential partner

Make a key hire to expand your team but aren't sure where to start

Figure out how to close more leads over the phone

Settle on the right pricing for your big upcoming product launch

Make sure you've landed on the perfect content plan to keep your email list warm and engaged

Feel stuck and just need to vent and get some encouragement

Determine if a potential partnership is worth your time or not

Tackle ANY other issue, question, or roadblock that's standing in your way
Whatever your challenge, you'll have the expertise of the entire Growth Tools team at your disposal.
Step 5: We Hold You Accountable and Keep You on Track
We've spent over $50,000 and 500 hours building a custom coaching tool that allows your coach to know what you should be doing, what you are actually doing, and if you are getting the results you should be or not.
Your marketing plan and all of your playbooks are delivered through this coaching tool.
It is custom built to help you stay on track in 3 ways...
If you're falling behind on a key task or project, we'll see it coming in advance and check in with you to make adjustments.

If we don't hear back from you, your coach will reach out via other channels until you respond.

If your revenue growth isn't on pace to hit your goal, we'll realize it while there's still plenty of time to adjust and get you back on track.
And when something really needs to get done but your struggling with procrastination or distraction, we will issue you a challenge to complete it within a specific timeframe or pay an agreed-upon penalty. (These challenges are optional, but extremely effective.)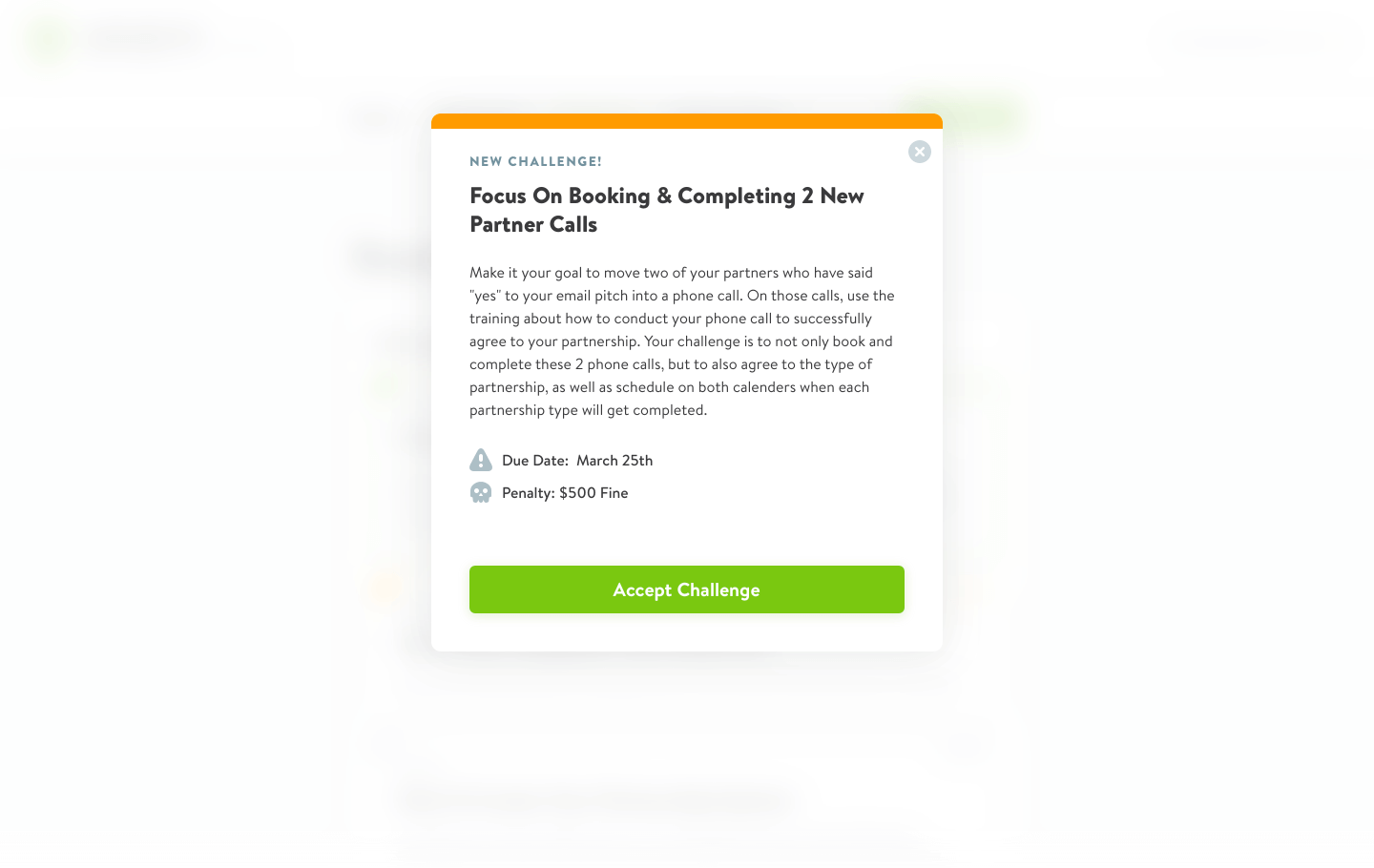 Accountability isn't something that can be bolted on with an "online community" or a Facebook Group. Accountability has to be maintained and managed with consistent monitoring and accurate reporting.
That's why, as your coaching team, we're not just making sure you're checking off boxes and telling us you finished a task.
We're working closely with you to keep your KPIs up-to-date so we can be sure you're on track to double your revenue in 12-months or less.